The Peck Family
Click on a Peck Family member below to learn more.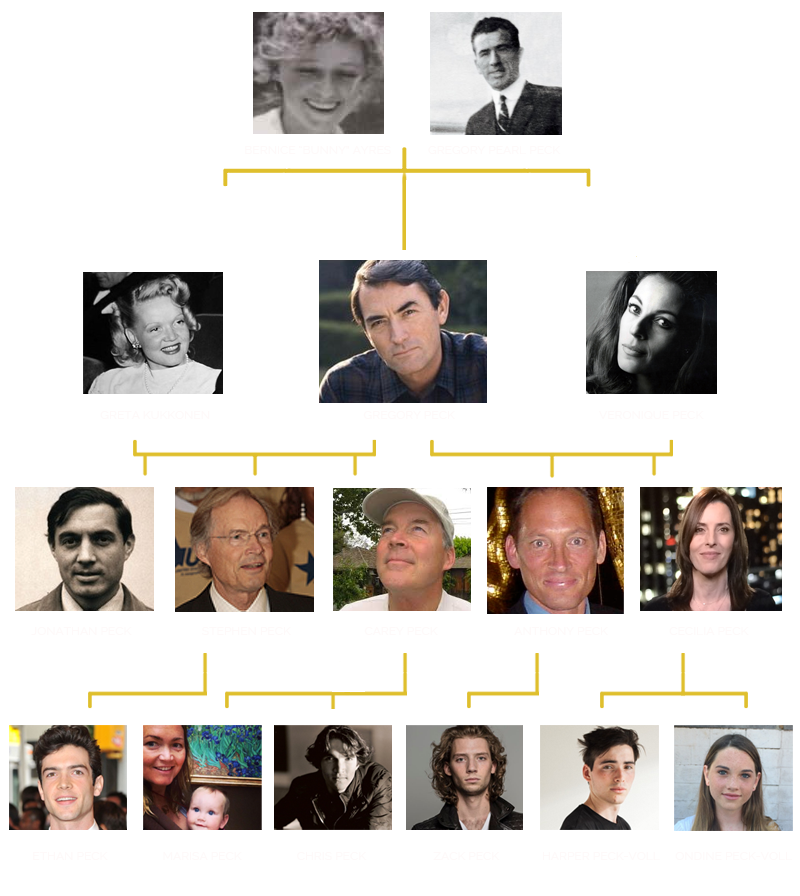 BERNICE "BUNNY" AYRES
Bernice was born in 1894 in St. Louis, Missouri, where she worked as a telephone operator before moving to La Jolla, CA. She married Gregory Pearl Peck in 1915, and later resided in San Francisco until her passing in 1992 at the age of 98.nn
GREGORY PEARL PECK
Gregory Peck was born in Rochester, NY, and returned to Dingle, Ireland with his mother Catherine Ashe as a young boy. He moved back to the States, graduated from Michigan U., and made his home in La Jolla, California where he owned an all night pharmacy. He was proud of serving the many Navy sailors and Marines who lived in and around San Diego.n
GRETA KUKKONEN
Greta was born in Helsinki, Finland in 1911. She met Greg while working as makeup artist to Katharine Cornell. She and Greg were married for 12 years. She lived in Los Angeles and was devoted to charitable work. She passed in 2008.
VERONIQUE PECK
Veronique, born in Paris in 1932, was a journalist for France Soir when she met Gregory. They married in 1955 and were together for 48 years until his passing. Veronique passed in 2012.
JONATHAN PECK
Jonathan Peck, born 1944, was a high school champion runner, a volunteer for the Peace Corps and a graduate of Occidental College. His career as a journalist was cut short when he died in 1975, while working as an on-camera reporter for UPI.
STEPHEN PECK
A former Marine Lieutenant who served in Vietnam, Steve is CEO and President of U.S. Vets, the largest organization in the US serving homeless veterans. He is married to food editor and blogger Kristine Kidd.
CAREY PECK
A former candidate for US Congress, Carey is a Principal Analyst and Grant Administrator for the LAUSD, and pioneer of empowering after-school programs such as the Take Action Student leadership campaign, and CyberPatriots, which draws girls and disadvantaged students to the STEM education pathways. He is married to environmental and installation artist Lita Albuquerque.
ANTHONY PECK
A graduate of Amherst College and The Juilliard School, Anthony is an actor, singer, screenwriter, film producer, and father to Zack, 24. He lives in Los Angeles with his wife Paula and her daughter Gaia.
CECILIA PECK
An actress, documentary film director and producer of "Brave Miss World", "Shut Up & Sing", and "A Conversation With Gregory Peck", she lives in Los Angeles with her writer husband Daniel Voll and their children Harper and Ondine.
ETHAN PECK
Ethan Peck is an accomplished actor currently playing the iconic role of Mr. Spock on Star Trek: Discovery, CBS All Access.
MARISA PECK
Marisa Peck, a graduate of Brown University, is a Council Facilitator on the Inclusion Team at Snap, Inc. She and her husband Tyler Johnson are the parents of Pearl and Rex.
CHRIS PECK
Chris Peck, a graduate of Pitzer College, with a masters degree from Johns Hopkins, teaches high school and his podcast, The Traveling Teacher, is available through iTunes.
ZACK PECK
Zack Peck, born in 1991, is currently living in the UK and is the father of a three year old son, Atticus, and a baby daughter, Elektra.
HARPER PECK-VOLL
Harper Peck, born in 1999, is currently studying at NYU.
ONDINE PECK-VOLL
Ondine Peck-Voll, born in 2002, is Duke University class of 2024.