« Back to News
Academy Unveils New Exhibition Celebrating Gregory Peck's Centennial
Deadline Hollywood
by Pete Hammond
April 21, 2016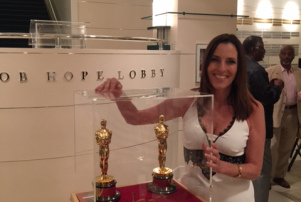 In honor of his 100th birthday, the Academy of Motion Picture Arts & SciencesWednesday evening unveiled Gregory Peck: A Centennial Celebration Exhibition at the Academy's Fairbanks Center For Motion Picture Study.
The exhibit features photos, home movie footage shot by Peck on his many film locations, his original heavily annotated script from his Oscar-winning role in To Kill A Mockingbird, both of his Academy Awards (one was for his humanitarian work) and numerous press clippings and personal correspondence from his long career. The glasses he wore as Atticus Finch in Mockingbird are also on display right next to those Oscars. The exhibit itself is worth a visit, but if you have never been to the Academy's world class Margaret Herrick library where it is housed at the Fairbanks Center on La Cienega Blvd (the former Beverly Hills Waterworks building), it is a must to be sure.
Of course, Peck was more than just a legendary star and Academy Award winner. His importance to the Academy goes beyond that as he also served 22 terms on their Board Of Governors  and three as President, including a key period in which he instituted major changes  in terms of making the membership more relevant to the industry. That quiet "revolution" he led in the late 60's and early 70's is precisely the blueprint the Academy is referring to now as the organization is in the midst of a similar shake up.
Among those speaking to the crowd last night was Peck's daughter, Cecilia Peck, who helped to spearhead this tribute for her father's centennial. Her brothers were also there. She actually co-starred with her father and Lauren Bacall in the TNT movie,The Portrait, as well as working with Barbara Kopple on the documentary, A Conversation With Gregory Peck. She told me it was difficult going through so many of her parents' photos and letters, but that now was finally the time to share them with the world. Much of the exhibit  is made up of materials from the Gregory Peck Papers which he donated to the Academy in 1995. Her mother, and Peck's wife Veronique, died in 2012, just nine years after her husband. Also very prominent in this exhibition is a bust of Peck that Mrs. Peck sculptured. His actual 100th birthday fell on April 5.
During her remarks Cecilia reminisced about showing that  finished documentary which was based on an 80's stage show he did about his life and times, with behind the scenes material added. "When Barbara and I showed it to him we were nervous about whether we maybe had invaded his privacy too much, so he watched the film and there was a silence, and he said 'it's fine. I like  it very much. I have only one request'. And his only note was ' would you mind including a small clip of a speech I gave in Philadelphia on the importance of gun control legislation'," she said. "And that was so much him, not to think about himself, but rather the greater good and humanity and I think that started with Gentlemen's Agreement in 1947 and again with To Kill A Mockingbird and throughout his career. He never hesitated to stand up for what is right. He was a champion of artists and spoke out against any kind of racism or prejudice or intolerance and did everything he could to uphold our democracy," adding that everyone should take a look at his Mockingbird script (on display in a special electronic device that keeps it from getting ruined) where on the last page he wrote four words: Friendship. Courage. Stubbornness. Love.
"I think those words are how he felt about the movie. And I have something to read that he wrote about playing Atticus Finch. 'I put everything I had into it. All my feelings and everything I learned in 46 years of living, about family life, and fathering children, and my feelings about racial justice and inequality and opportunity'. You know we really got to have a father who really was Atticus Finch. Harper Lee said it so well," she said, 'Atticus Finch gave Gregory Peck a chance to play himself.'"