BIO
I'm not a do-gooder. It embarrassed me to be classified as a humanitarian. I simply take part in activities that I believe in.

– Gregory Peck

I think that's what the audience is really interested in… you, how you're going to cope with the situation, the obstacles, the troubles that the writer put in front of you.

– Gregory Peck

Tough times don't last, tough people do, remember?

– Gregory Peck

I enjoy practicing my craft as well as I possibly can. I enjoy the work for its own sake.

– Gregory Peck

Of the movies I've done there isn't much I really like. The Gunfighter,  Roman Holiday, Twelve O'Clock High I feel were my best.

– Gregory Peck, 1957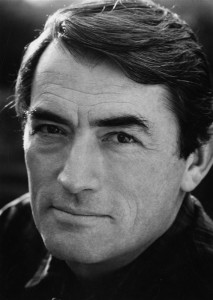 Tall and strikingly handsome, with a commanding presence and a deep, resonant voice, Peck was born in La Jolla, California, on April 5, 1916. As a senior at the University of California at Berkeley, he was cast in several plays and fell in love with acting. Upon graduating, he won a scholarship to attend the prestigious Neighborhood Playhouse in New York and made his Broadway debut in 1942. Critical praise and more stage roles followed. Peck soon caused a sensation in Hollywood and quickly became a major star. One of cinema's most respected actors, Gregory Peck appeared in more than 60 films during an esteemed career that stretched from the 1940's to the early 2000's. His dignity, humanity, and integrity impressed critics from the start and endeared him to generations of moviegoers. Nominated five times for the Academy Award for Best Actor, he won the Oscar for his performance as defense attorney Atticus Finch in To Kill A Mockingbird, a character that Peck said was closest to his own heart.
Although he played a wide variety of memorable roles throughout his career—a wayward cowboy in Duel in the Sun (1946), a love-struck reporter in Roman Holiday (1953), Captain Ahab in Moby Dick (1956)—Peck always grounded his performance in a keen intelligence and innate authenticity that illuminated the screen.
His thoughtful portrayal of a devoted priest in The Keys of the Kingdom (1944) earned him his first Academy Award nomination for Best Actor. Another Oscar nomination followed for The Yearling (1946). In Gentleman's Agreement (1947), Peck played a passionate young reporter determined to expose anti-Semitism. Acclaimed by critics as well as the public, the film earned eight Academy Award nominations, including one for Peck as Best Actor. He received a fourth Oscar nomination for his portrayal of the commander of a demoralized World War II bomber squadron in Twelve O'Clock High (1949).
Peck's own favorite role, and the one for which he is most remembered, is Atticus Finch in To Kill A Mockingbird. Based on the Pulitzer Prize-winning novel by Harper Lee, the film tells the story of Atticus's defense of a black man accused of raping a white woman. The film opened in December 1962. According to Variety, it was "a major film achievement, a significant, captivating and memorable picture that ranks with the best of recent years." The film earned eight Academy Award nominations, countless international honors, and the Best Actor Oscar for Peck. Perhaps Harper Lee summed it up best: "Atticus Finch gave Gregory Peck an opportunity to play himself." In 2003, the American Film Institute (AFI) ranked Atticus Finch the number one movie hero in American film history.
From the beginning, Peck's career included many critical and box-office hits, including Spellbound (1945), The Gunfighter (1950), The Snows of Kilimanjaro (1952), On the Beach (1959), and The Guns of Navarone (1961). In the late 1950s, he also formed his own movie production company. Its films included the epic 1958 western The Big Country, the innovative Korean War drama Pork Chop Hill (1959), and the suspense thriller Cape Fear (1962), among others. In The Omen (1976), he had the biggest box office hit of his career. In 1991, he revisited Cape Fear in a version directed by Martin Scorsese, and in 1998 received a Golden Globe for his tour-de-force appearance in a television adaptation of Moby Dick.
In the midst of his phenomenal rise in Hollywood, Peck remained committed to live theater. In 1947, he was a founder of the La Jolla Playhouse, a nonprofit professional theater company, and was an active and avid supporter for the rest of his life. Peck was an outspoken opponent of racism and anti-semitism, and championed films which addressed these issues head-on.
Peck was President of the Academy of Motion Picture Arts and Sciences from 1967 to 1970 and also served as a longtime governor. He was an inaugural member of the National Council on the Arts and the Founding Chairman of the American Film Institute. He was National Chairman of the American Cancer Society and raised record-breaking contributions. He also devoted himself to the Motion Picture & Television Fund, which provides health care to members of the entertainment industry. For his public service, he received the Jean Hersholt Humanitarian Award, an honorary Oscar, in 1967.
In 1969, President Lyndon B. Johnson awarded Peck the Presidential Medal of Freedom as "an artist who had brought new dignity to the actor's profession," and in 1970, Peck received the Screen Actors Guild award for "outstanding achievement in fostering the ideals of the acting profession." In 1989, he received the AFI Life Achievement Award, followed by the Kennedy Center Honors in 1991 and the National Medal of Arts from President Clinton in 1998.
Gregory Peck will long be remembered for leaving the indelible imprint of his own character on all the roles he played, especially Atticus Finch, of whom he said: "I put everything I had into it—all my feelings and everything I'd learned in 46 years of living, about family life and fathers and children, and my feelings about racial justice and inequality and opportunity."