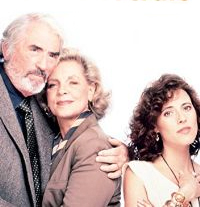 Some years ago, we were filming "The Portrait" for Turner in Raleigh, N.C (originally titled "Painting Churches",) which told the story of a family dealing with the onset of Alzheimer's disease. Starring Lauren Bacall and Gregory Peck as an aging couple, and Cecilia Peck as the artist daughter, the location was perfect for the script—small town with beautiful homes and a country feel. I actually met Cecilia in the elevator of the hotel, having recognized her as the lead in a film I had just seen the week before, "Torn Apart!"
My job was location casting and working with community. I often had connections with mayors, and community leaders. One day, the production office handed me a letter from an woman in hospice who was dying from cancer. Her favorite actor was Gregory Peck, and she wanted to know if he would come and visit. This kind of thing was basically impossible, as our shooting schedule was so tight, and free time was almost non-existent. But I decided to hand the letter over to Mr. Peck's driver, knowing he would hand it to him at the right time.
A few days later, I was told the story: Gregory decided to call the woman, and spoke to her for almost an hour. The nurse couldn't believe the reaction of the woman when she got the call, as her face and whole demeanor had changed. Asking her "Who are you talking to?" — the nurse thought something very weird was happening. When the woman said "Gregory Peck!" the nurse gave her a look of disbelief, but was then handed the phone!
Not wanting to end it with just a phone call, Gregory also sent her a signed headshot with a hand-written note.
But this was not the only kind act of Gregory Peck. Often, when the director called "Cut," to make time for relighting, or moving, Gregory would go to his trailer, stand outside, and tell stories to the neighbors, shaking hands, and being more friendly than most people, at a time when he could have rushed into his privacy to relax before the next shot.
I would watch this in admiration of a man whose fame had not broken his humanity, and who was a kind person who embodied attributes of not only talent, but a sincere sense of caring.
On the final days of shooting, the scene took place in an art gallery. My sister, who lives in Manhattan, came down to be an extra, and was chosen by the costume designer—Julie Weiss – to be near Gregory since she had "the right clothes." At the end of the shoot, when the director called "It's a wrap," Gregory took my sister's hand, not even knowing she was my sister, and gave it a "peck!" (no pun intended!) Ever since then, she often thanks me for the experience—something I can hold over her head forever!
Having worked on more than 40 films, this experience was one which sticks out as so special, and made that way because of actor, husband, father and consummate human being, Gregory Peck.